If Christmas had a cocktail, it would definitely be this one! Best of all, this can be made as a mocktail, too!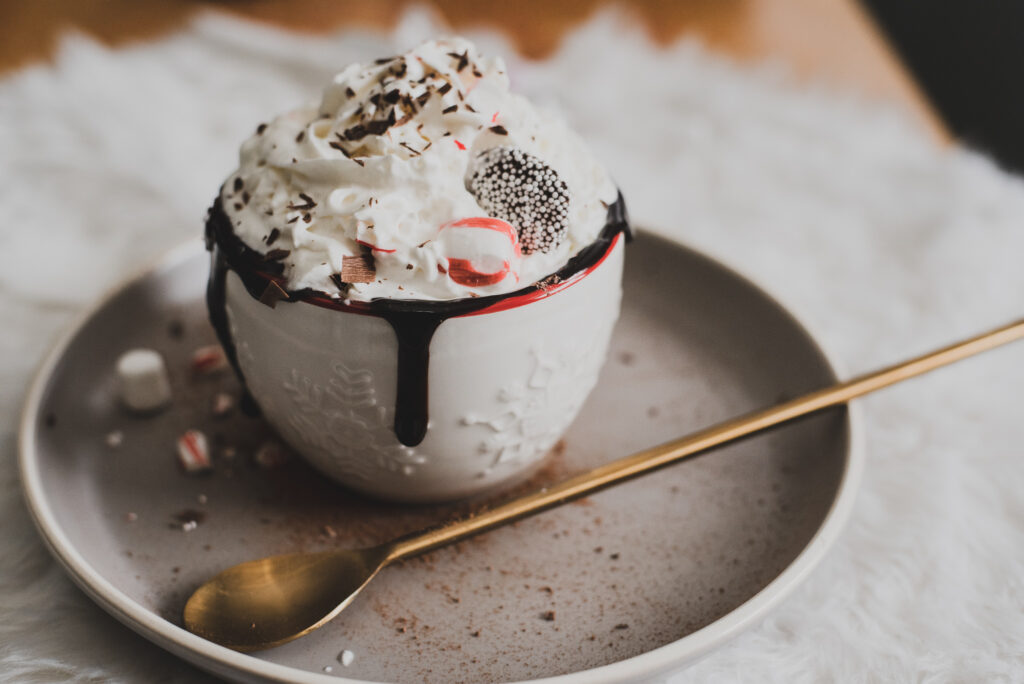 Most of you know that I have been on a holiday cocktail making kick, and it's been really fun! If my kitchen didn't end up a total disaster in the process, I would have shared a very humorous behind the scenes, which involved me making 4 very strong cocktails at 9 a.m. on a Saturday, and inviting a friend and Marcelo to sample them with a straw, which ended up being a huge failure. The cocktails, however, did not disappoint!
This cocktail was different, because it came from a TRUE craving for something holiday-inspired. I never really liked eggnog, but changed my mind after Marcelo took me to Miracle (NuLu's hottest pop-up Christmas bar) and I had their eggnog cocktail.
This cocktail (like the others in my blog series!) is EASY to make, EASY to customize, and looks frickin DELICIOUS. Naturally, it tastes amazing, too.
The deets
The concoction: Hot cocoa of choice, eggnog (alcoholic or non), milk of choice, or water
Toppings: cinnamon or nutmeg, a million mini marshmallows, whipped cream, chocolate syrup, crushed candy cane pieces, soft peppermint swirls, and chocolate discs with nonpareils, if we're getting fancy (which we are, obvi)
Whether you like to boil your hot cocoa or microwave + mix, add your eggnog near the end and top as desired! This is super fun to customize, you could add a gingerbread man, a full candy cane, caramel – now I want to make another one…
One thing I learned while trying to get pictures of this SERIOUSLY DELICIOUS drink is that whipped cream melts SO fast, and I had to redo it several times attempting to get an amazing shot lolllll.
If you make something way more amazing than this, I'd love to know what toppings you add to your Christmas in a Cup!
Stay tuned next week for a MAGICAL, nostalgic concoction that is 9 3/4 of the way finished 😉
Johanna Elise
Frames & Letters Photography