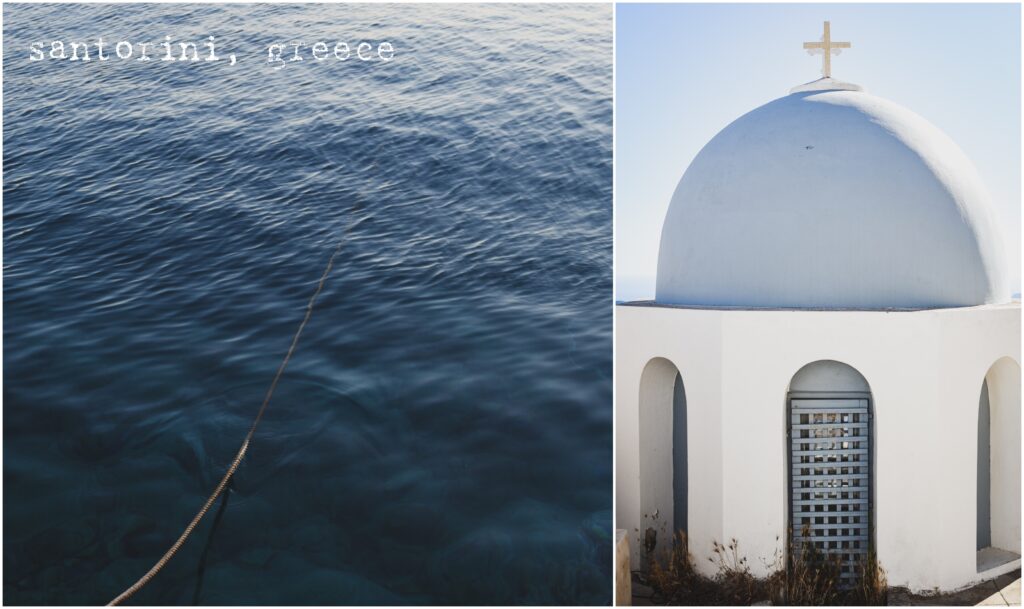 Have you ever dreamed of going somewhere for so long that you were afraid it would be underwhelming once you actually got there? So many people visit Santorini that I thought either the tourist influence or an overload of seeing amazing Santorini photos would ruin the experience for me!

I'm very glad to report that was not the case – last summer, Marcelo and I traveled through France, Italy and our last stop was to Santorini and Athens, places we'd both dreamed of visiting for a long time. We definitely saved the best for last: beauty awaits around every corner of Santorini's winding pathways and white buildings, the Mediterranean water creating a stunning panorama along the coast.
Learn about the Best Paris Experiences or the Italy 7 Cities recap here!

Our favorite Santorini experiences
InstaPhoto + Culture Walk in Santorini tour with Kimon and Panos
THIS WAS THE BEST THING WE DID OUR ENTIRE TRIP!

Kimon is a world-renowned photographer, and although I had already been following him on Instagram, I had no idea he would be our photographer! He and Panos are a great team – Panos studied Greek history and was able to tell us about Santorini and give us great food recommendations while Kimon took photos of the other two people on our tour.

My favorite thing about this tour: It was small and Kimon and Panos knew just the right times to take us to the must-see photo spots and avoid the crowds of tourists from cruise ships. We really appreciated their recommendations, and the amazing photos, of course! We also got to see the house from Sisterhood of the Traveling Pants – my teenage fangirl self was excited, even though the house was re-painted so it looks totally different now, lol.
The food
Panos and our Airbnb hosts made some AMAZING recommendations for foods and restaurants. The tomatokeftedes and faba dip were my favorites from Santorini!
Click here for a recipe I shared last week to make your very own tomatokeftedes (crunchy tomato fritters!)
Sunrise and sunset
You just can't miss these if you stay in Santorini. It's an actual crime.
Admiring the architecture
You can spend hours just walking around and appreciating the beautiful domed churches, bell towers and blue ocean in Santorini.
Athens
We only had maybe a full day in Athens, but it was beautiful and we would love to return! We did a quick trip to the Parthenon and even under construction, it is a sight to behold.
For dinner, we had THE best grape leaves I've ever had and some deliciously prepared meat – I forget what it was, but I liked it! Also, Greek ice cream is spectacular!!!

We ended our trip with another delicious meal, very grateful for the hospitality of the people we met and with many hopes to return again soon.
Thanks for reading,
johanna elise