Are you a high school or college senior already thinking ahead to your cap and gown photos? It's time to starting to look for spring locations for Louisville or Southern Indiana senior pictures! Every year, I look for new spots we can take colorful, fun and memorable graduation pictures. I keep track of where trees start to blossom in the spring and wildflower locations in the summer so I know exactly where to go. Most of these are spots others won't remember or notice, so we'll have them all to ourselves for your session. Year to year, there are a few FAVORITES that everyone loves for senior pictures. 

The top 5 most requested outdoor locations for Louisville senior pictures in the spring and summer:
5. NuLu/Butchertown murals + downtown rooftops
For seniors who really want something fun and lots of color, the NuLu murals are the perfect option! You can find one that really reflects your personality, favorite colors, school colors, or one that you just love. Click here for a list of Louisville murals that everyone enjoys taking pictures with, plus their locations.

Close to the NuLu area, nearby garage rooftops are gaining popularity because you get a fantastic view of the city. I've also got a list of great rooftops with different views, reach out if you want to see options!
4. Louisville Waterfront Park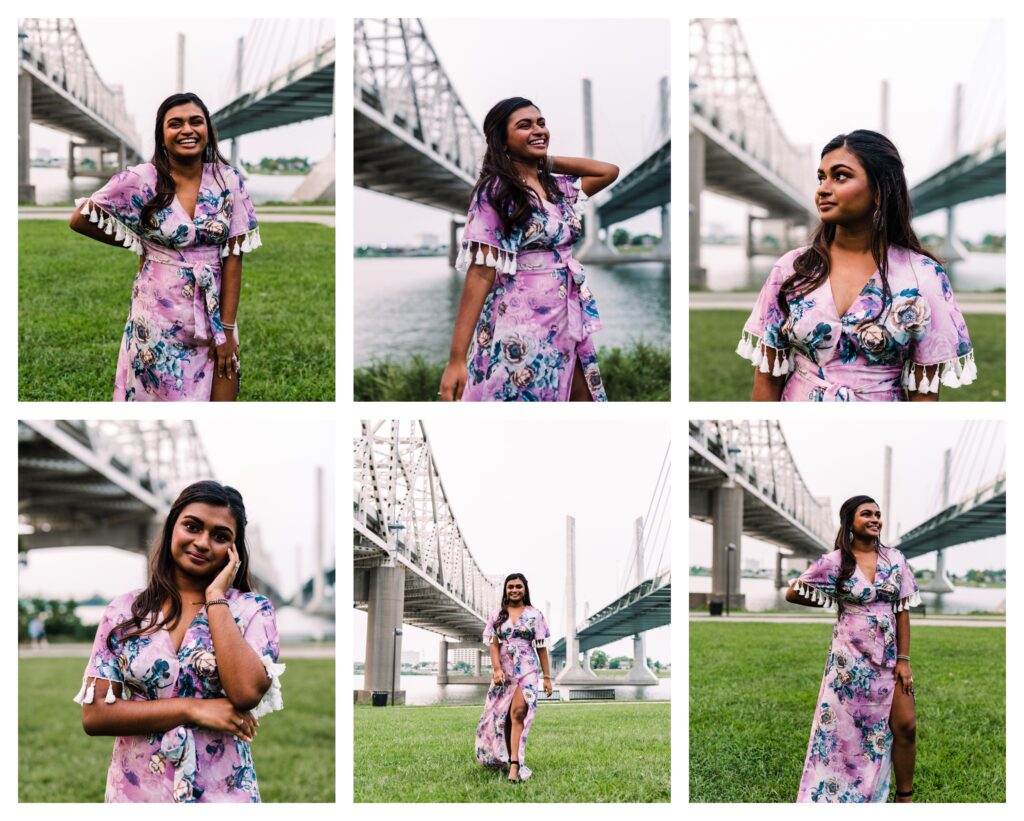 Are you looking for a modern oceanside feel…in Louisville? The Louisville Waterfront is an amazing option in the spring and summertime! The bridges towering over and the water behind you are so fun for photos. There are usually some wildflowers along the riverfront, too. The walking bridge, boat docks, and big open spaces are all picturesque options for your session. I LOVE taking photos here at sunrise and sunset!!!
3. Cherokee Park
A local favorite, Cherokee Park is massive and has so much variety of scenery throughout the year. In the spring, blossoming trees are a breathtaking option if you love fresh flowers and pastel colors. Summertime brings yellow and orange wildflowers that will make you feel like you're in the meadow from the Sound of Music! Cherokee also has areas with beautiful creeks, hidden trails and so much more.
2. Parklands of Floyd's Fork / Beckley Creek
Every year I purchase a permit to photograph in the Parklands, because it really is the BEST park in Louisville for senior portraits. It has scenic trails, magical fountains, a lovely creek, tall grasses and wildflowers everywhere! This is a park that looks different every single season which will make your senior portraits in the Parklands stand out from anyone else's. You'll fall in love with this park for your session, I absolutely love taking pictures here any time of year.
1. St. James Court
Finally, the number one requested location for senior portraits in spring and summer in Louisville is….St. James Court in Old Louisville! This historic neighborhood has THE fountain everyone loves for prom and senior photos. Its beautiful old homes, ivy on brick buildings, and well-kept gardens make it 100% photogenic throughout the year. Nearby is Central Park, which also features impressive pillars that are also popular for photos.
Other honorable mentions for outdoor Louisville senior picture locations:
Here are a few more locations that are newer or places not too many seniors have requested yet, and should be on your radar!!! Some charge an additional photography fee, but it's totally worth it to have your pictures taken in these amazing spaces!
* = additional fee charged by venue, check website for hours and availability
Ready to book your spring or summer senior portraits? Click here to visit my website to learn more about senior portrait photography packages and fill out a contact form to plan your session!
More senior blog posts you may enjoy…
The Best Month of the Year for Outdoor Senior Portraits in Louisville and Southern Indiana
Perion's Musical + Colorful Senior Portrait Session in Downtown Louisville
Summer Senior Portrait Sessions
Johanna Hribal is an adventurous senior photographer serving fun-loving grads in Louisville, Kentucky, Southern Indiana or wherever you want to go! Find out more about your personalized senior portrait experience here. Fill out a contact form to get in touch about your upcoming event!